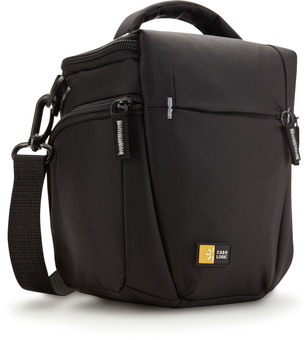 Whenever one upgrades camera there is always the problem of find a new camera bag, not too big, not small, but just right. So for the benefit of those in the same position this how things fit into the Case Logic TBC-406 which I got for my new Panasonic DMC-FZ200. This bag takes my hoya filter pouch, 2 spare batteries, and the FZ200, lens down, with the lens hood attached in the normal position (rather than reversed in the storage position).
Click the picture to see a slide show of pictures.
For those that don't know the FZ200 is a super zoom. I've long been a fan of super zooms as they are fun cameras in a small package and I'd rather have a camera I have with me all the time than a backpack of camera and lens I tend to leave at home. My first super-zoom was an Olympus C750UZ with a 10x zoom but no optical stabilization so you needed bright days to use the full zoom. My next was a Panasonic TZ10 with 12x zoom. This added stabilization which not only helped use full zoom more but also was great for night shots which was a benefit I have not expected. My recent upgrade is the FZ200. This is a larger camera so I'll continue to use the TZ10 when I need a more compact camera. What sold me on the FZ200 is the lens, x24 zoom with a constant F2.8. There are longer zooms but nothing with as fast a lens which is the key to getting good images.
Unfortunately the FZ200 has a few ergonomic niggles. It lacks a rubber coating on the viewfinder so I've added 2 cut down, self-adhesive rubber feet to protect the lens on my glasses as the sharp eyed will have noticed in the picture. That's a simple solution, if not pretty, and really rubber edging should have been standard on such an expensive camera. The second problem is the ergonomics of the lens hood and lens cap which I cover in another blog page.