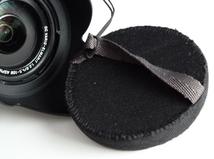 I've recently upgraded my camera to a Panasonic DMC-FZ200 but unfortunately the FZ200 isn't perfect. A major problem is the ergonomics of the lens hood and lens cap. To avoid flare the lens hood should always be used so ideally the camera is stored with the lens hood attached in the working position. This means that the lens cap has to be fitted and removed inside the lens hood which is very fiddly and I find it hard to avoid hitting the lens with the (hard plastic) lens cap. This is my answer to this problem.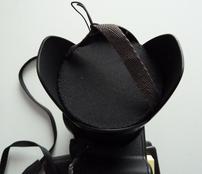 One alternative to trying to fit the cap inside the lens hood is to remove hood, fit the cap, and the refit hood. That is long winded and doesn't work if you attach the lens cap to the camera body unless you also reverse the lens hood each time. That is remove hood, reverse hood, refit hood, fit lens cap. Overall either of these takes far longer than the 1s power up time and they rule out catch a quick shot. My solution is a lens cap that fits into the lens hood. This just pushes into place and rests on the hood lip. If there is a filter fitted then it rests on the filter ring. I push it home with 2 spread fingers so it never touches any glass. It is springy so grips the lens hood which usefully has a sawtooth finish which resists the cap falling out.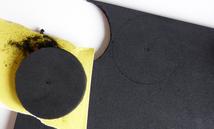 This soft lens cap is constructed out of a 6mm thick mouse mat with a black fabric surface which cost about £1 plus some grey fabric tape and some black bias binding from my wife's sewing box. A pair of compasses was used to draw 2 circles of 38mm radius on the back of the mouse mat. These were cut out with scissors. Fine, 80 grit, sandpaper was used to reduce the size of the discs to just fit the lens hood. A rolling motion was used to ensure the discs stayed circular and the discs were finally sanded as a pair to make them identical. A 17cm length of fabric was overlapped by 1cm and sewn to make loop. This loop and joint goes between the mouse mat discs which are glued together with Uhu or similar. Finally the bias binding is hand stitched around the edge to give a neat finish.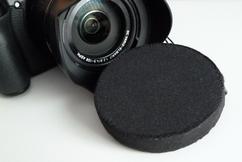 I must thank my wife for the expert stitching that finished off the edge so neatly. For those who cannot sew, like me, omitting the bias tape is an option but this might result in the edge wearing.